Dr. Pimple Popper shared a new video on Instagram Monday of herself removing a large cyst from the back of a man's head.
The doctor (a.k.a., dermatologist Sandra Lee, MD) compared the cyst to a human eyeball.
Dr. Pimple Popper said the cyst was a pilar cyst, which often pop up on the scalp.
You know that phrase about having eyes in the back of your head? Well, in her latest Instagram video, Dr. Pimple Popper shows you what that might look like–except, it's a large cyst instead of an eyeball.
Dr. Pimple Popper (a.k.a., dermatologist Sandra Lee, MD) shared the video Monday on her Instagram page—and you could tell from just the thumbnail that it was bound to be epic.
"Do you REALLY want eyes behind your head?" she captioned a video with a still that shows an eyeball-like cyst in the middle of the back of a man's head. She also used the hashtag #pilarcyst, which is a cyst that happens in less than 10 percent of the population and tends to pop up on the skin of the scalp.
Do you REALLY want eyes behind your head? #eyeswithoutaface #billyidol #drpimplepopper #pilarcyst
A post shared by Sandra Lee, MD, FAAD, FAACS (@drpimplepopper) on
In the video, she zooms out from the pilar cyst while Billy Idol's "Eyes Without a Face" plays in the background (because when she's not comparing her pimples to food, she's providing some pretty great background music for them).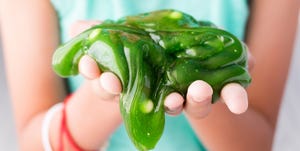 In the next shot, you see the cyst all prepped for surgery with an incision in the middle. The doctor grabs some gauze, pulls back the skin around the cyst, and squeezes until the whole damn thing bulges out. She cuts the base, removes the cyst, and then showcases the gaping hole that's now in the patient's head (don't worry—most of it's covered with hair).
Like all Dr. Pimple Popper videos, it's part fascinating, part horrifying, and totally gag-worthy. But this is hardly the first pilar cyst the doctor has featured on Insta. Just last week, she shared video of a woman who has three of the cysts on her head that the doctor jokingly referred to as "poppa cyst, momma cyst, and baby cyst!" At one point, she even commented that one of the cysts came out "like a little olive."
I guess at least this time she didn't compare a bulge coming out of a man's head to food? It's the little things.
Source: Read Full Article