Calendar and "facepalm" emoji, stand down: a dedicated "period emoji" will be included in the next emoji keyboard update, it was announced on Wednesday.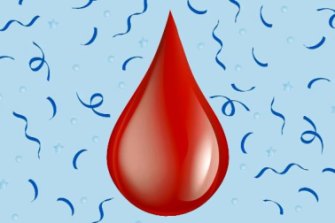 The new "period" emoji may just be a drop of blood.Credit:Twitter/Plan International UK
The period emoji, which appears as a drop of blood, is one of 59 new symbols just announced by Unicode as part of the 12.0 emoji keyboard, expected to roll out later this month.
It comes following an online petition organised by the UK arm of humanitarian group Plan International in 2017 calling for a period emoji, which amassed close to 55,000 signatures.
The campaign began following a Plan International survey which found 48 per cent of UK women aged between 14 and 21 were "embarrassed" by their periods.
An online vote was conducted to allow supporters to choose between five possible designs for the new emoji, with a picture of stained underpants selected and submitted to Unicode.
However, the stained underpants design was rejected.
The group then joined with UK health agency NHS Blood and Transplant to push for a blood drop emoji.
"The inclusion of an emoji which can express what 800 million women around the world are experiencing every month is a huge step towards normalising periods and smashing the stigma which surrounds them," Lucy Russell, head of girls rights and youth at Plan International UK, said in a statement following Wednesday's announcement.
Social media reactions to new emoji have been mixed, with some celebrating the new symbol, while others questioned whether a "blood drop" emoji is really a "period" emoji.
On Unicode's list of emoji to be released as part of the 12.0 keyboard, the symbol is described as a "drop of blood".
Source: Read Full Article