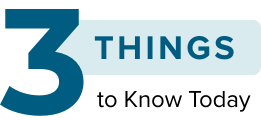 TikTok Creates Ozempic Shortage
TikTok is fueling demand for Ozempic, creating shortages of the diabetes drug now used for weight loss. Videos on TikTok hashtagged #ozempic have amassed more than 275 million views, and #ozempicweightloss has more than 110 million. The trend follows social media posts by celebrities such as Kim Kardashian and Elon Musk touting their own use of the drug or weight loss attributable to its use.
Ozempic is Novo Nordisk's brand name for semaglutide, a weekly injection that helps boost insulin sensitivity in people with type 2 diabetes that also suppresses appetite, leading to weight loss.
Hollywood connection: Variety dubbed Ozempic "the worst kept secret in Hollywood – especially given that its most enthusiastic users are not pre-diabetic and do not require the drug."
Body obsession: Researchers analyzed 1000 videos with nutrition, food, and weight-related hashtags, with more than 1 billion views combined. They found that nearly all included messages glorifying weight loss and thinness.

New Multiple Sclerosis Framework Proposed
An international panel proposed a new way to classify multiple sclerosis (MS) that could change the way patients are diagnosed and treated. The proposal in Lancet Neurology by members of the International Advisory Committee on Clinical Trials in Multiple Sclerosis would overturn the existing system, which classifies MS on the basis of disease progression. The new framework is instead based on the underlying biology of the disease and acknowledges the different trajectories of individual patients.
Current research: Current research focuses on MS mechanisms of injury, such as acute and chronic inflammation, myelin loss, nerve fiber, and neuron loss and mitochondrial dysfunction.
Differences among patients: MS evolves differently in patients depending on how the body responds to injury, and disease progression is caused not by a single disease mechanism but by a combination of several processes that vary from one patient to another. The new framework would enable the development and approval of more biologically based treatment approaches.

AI May Cut Bias in Drug Trials
Artificial intelligence (AI) could help improve diversity, equity, and inclusion in clinical trials and drug development by overcoming human bias, experts argue. The technology could also assist doctors with data insights to make diagnosis and treatment more precise. AI could also streamline the drug development process, narrow potential drug candidates, and make clinical trials more cost-effective. But recognizing and eliminating human bias in the development of AI algorithms remains an obstacle.
People problem: AI algorithms are only as good as the data used to create them, and people create the data, which may reflect their biases.
Genetic data issues: Some 90% of genetic and genomic data originated from people of European descent, and research based on those data is inherently biased, experts argue.
For more news, follow Medscape on Facebook, Twitter, Instagram, and YouTube
Source: Read Full Article