video
Pentagon officially drops COVID-19 vaccine mandate for troops
Tennessee Rep. Mark Green takes a closer look at the Pentagon's vaccine mandate, COVID-19's origins and new studies about the possible effects of coronavirus vaccines on 'The Evening Edit.'
After mobilizing to quickly develop and manufacture a Covid-19 vaccine, Johnson & Johnson has vastly scaled back its efforts in producing the shots as it faces slumping demand.
The New Brunswick, N.J., pharmaceutical company in recent months terminated manufacturing agreements with companies that helped produce the shot during the pandemic such as Catalent Inc. and Sanofi SA. 
Meanwhile, a partnership with rival Merck & Co. to help make the shots, forged at the urging of the U.S. government, hasn't lived up to expectations. The companies are now engaged in arbitration.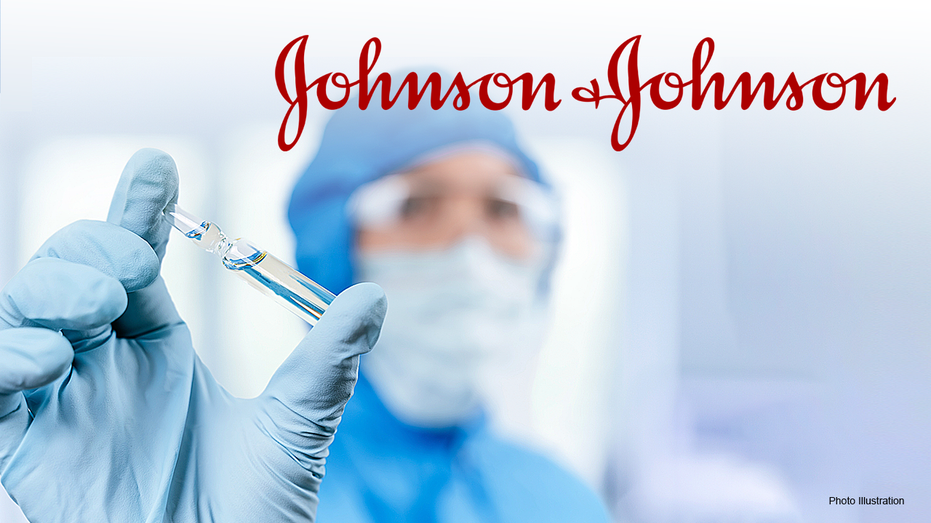 After Merck's Covid-19 vaccine candidates failed, the drugmaker partnered with rival Johnson & Johnson to produce vials of the latter's vaccine. (iStock)
Merck, of Rahway, N.J., has produced J&J vaccines at only one of its plants, while it didn't make commercial doses at another plant that involved a more complex part of the manufacturing process, according to people familiar with the matter. 
CHINA APPROVES SALE OF PFIZER COVID PILL PAXLOVID AS CASES SURGE, WHITE HOUSE DENIES INVOLVEMENT
Ticker
Security
Last
Change
Change %
JNJ
JOHNSON & JOHNSON
174.00
-0.88
-0.50%
MRK
MERCK & CO. INC.
111.77
+0.70
+0.63%
CTLT
CATALENT INC.
49.35
-0.11
-0.22%
SNY
SANOFI
49.35
+0.61
+1.25%
"They were trying to do this the best way possible to meet global demand but all of those plans fell apart," said Prashant Yadav, a supply-chain expert and senior fellow at the Center for Global Development, a think tank focused on cutting poverty.
J&J said it is making its Covid-19 vaccine available where needed, and it has hundreds of millions of doses available. It didn't comment on whether it will continue to produce it. 
J&J AND MERCK EBOLA VACCINES PRODUCE LASTING ANTIBODIES IN CHILDREN AND ADULTS
U.S. regulators cleared the J&J vaccine for use in February 2021, with high hopes from health authorities because it was a single-dose shot and carried fewer cold-chain storage requirements than other shots. J&J's initial supply was small, leaving the company and governments scrambling to increase doses. At least nine companies agreed to help manufacture J&J's shot, according to J&J and the companies. 
Yet J&J's vaccine hasn't been as widely used as the Moderna Inc. or Pfizer Inc. and BioNTech SE shots. Manufacturing issues limited the shot's availability and the risk of a rare but serious blood-clotting condition dissuaded some people from using it. 
Ticker
Security
Last
Change
Change %
MRNA
MODERNA INC.
188.06
+1.42
+0.76%
PFE
PFIZER INC.
47.71
+0.26
+0.55%
BNTX
BIONTECH SE
146.26
-3.15
-2.11%
Roughly 400 million doses of the original Pfizer-BioNTech shot and nearly 250 million doses of the original Moderna shot have been administered in the U.S., compared with about 19 million J&J doses, according to the Centers for Disease Control and Prevention.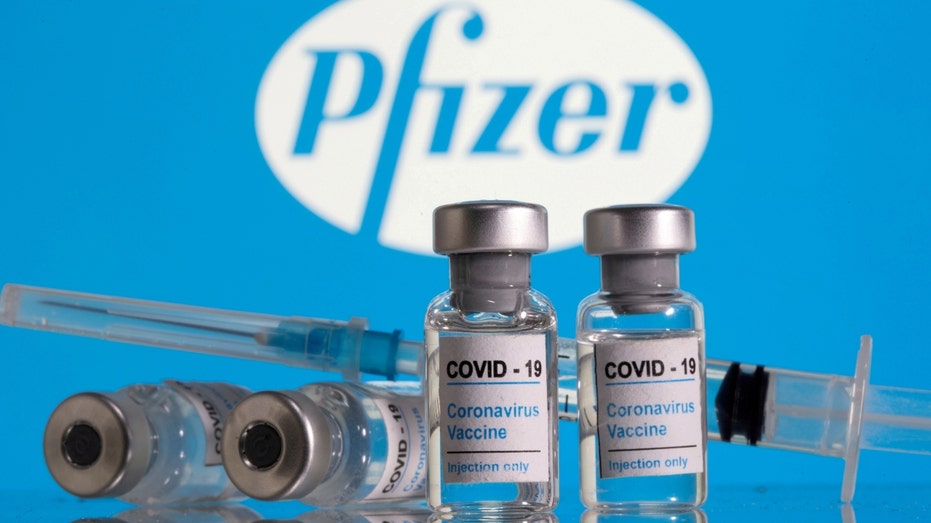 FILE PHOTO: Vials labelled "COVID-19 Coronavirus Vaccine" and a syringe are seen in front of the Pfizer logo in this illustration taken February 9, 2021.  (REUTERS/Dado Ruvic / Reuters)
To increase the then-limited J&J vaccine supply, the Biden administration announced in March 2021 that Merck would help produce J&J pandemic vaccines, hailing it as a "historic manufacturing collaboration." 
Merck, whose efforts to develop its own Covid-19 vaccine were unsuccessful, agreed to deploy two of its U.S. manufacturing plants to make J&J's doses, helped by more than $100 million from the government to upgrade them. The U.S. government also invoked the Defense Production Act to give Merck priority access to supplies. 
RELIGIOUS EMPLOYEES ALLEGEDLY FIRED FOR NOT GETTING COVID-19 VACCINE SUE MASSACHUSETTS PHARMACEUTICAL COMPANY
Under the partnership, Merck was to help J&J with two phases of manufacturing its vaccine. At a Durham, N.C., facility, Merck would produce the so-called drug substance, the early and complex stages of manufacturing. At its West Point, Pa., plant it would complete the final stages of the vaccine's production, a shorter process known as fill-and-finish.
Merck began rolling out the first J&J doses of its Pennsylvania plant in late 2021, primarily for use outside the U.S. Merck declined to comment on whether production at its Pennsylvania plant has continued.
This August 2022 photo provided by Pfizer shows vials of the company's updated COVID-19 vaccine during production in Kalamazoo, Mich. ((Pfizer via AP, File) / AP Newsroom)
Despite upgrades to the Durham facilities, Merck hasn't produced any commercial doses at that plant, according to people familiar with the matter. 
Merck's production was delayed because vaccine ingredients and manufacturing components arrived later than planned and because of technical issues at the plant, one of the people said. The components were partly late because the U.S. government stopped giving priority to J&J orders under the Defense Production Act, delaying the arrival of materials that were difficult to source, this person said. 
PFIZER SAYS IT'S EYEING A $110 TO $130 LIST PRICE FOR COVID-19 VACCINE IN U.S.
Merck and J&J still anticipated commercial production at Durham as of October of 2021, the companies said at the time. J&J expected the plant to be added to J&J's emergency use authorization with U.S. health regulators in the second quarter of 2022, which would make doses from the plant eligible for distribution, Remo Colarusso, head of J&J's pharmaceutical supply chain, said in an interview at the time.
That hasn't happened, according to a person familiar with the matter.
In October 2022, J&J filed a demand for arbitration against Merck, in connection with the companies' vaccine partnership, according to securities filings by the companies. Merck, in turn, filed a response to J&J's arbitration demand and its own counterclaims, filings from the companies show. 
The companies didn't disclose the nature of the dispute. Many corporate contracts require arbitration of any disagreements, to head off costly and public litigation in court. 
MODERNA AND MERCK TEAM-UP TO FIGHT MELANOMA
Representatives for J&J declined to comment on the arbitration. 
Merck looks forward to presenting its position to the arbitration panel, a company spokesman said.
The action against Merck came as J&J ended contracts with other companies. J&J terminated its Covid-19 vaccine manufacturing agreement with French drugmaker Sanofi due to decreased demand, a Sanofi spokesman said. 
Catalent, a Somerset, N.J.,-based contract manufacturer that has made doses of Covid-19 vaccines, said in November it agreed to early termination of contracts with J&J for fill-and-finish of vials of the vaccine. Catalent said it received payments of $54 million from J&J to resolve the contracts in October. 
J&J said in June it planned to terminate its Covid-19 vaccine supply contract with manufacturer Emergent BioSolutions Inc., and both companies accused each other of breaching the agreement. The companies disagree on the amount of money J&J owes Emergent, according to an Emergent securities filing. Contamination problems at Emergent's Baltimore plant forced the destruction of tens of millions of doses of J&J's vaccine in early 2021, though additional batches were later cleared by regulators for distribution.
Ticker
Security
Last
Change
Change %
EBS
EMERGENT BIOSOLUTIONS INC.
13.94
+0.47
+3.49%
South Africa's Aspen Pharmacare Holdings Ltd. produced 225 million doses of the J&J shot through a contract-manufacturing agreement. The company received a license from J&J to make the vaccine under Aspen's branding, called Aspenovax, in November 2021, said Stavros Nicolaou, senior executive of strategic trade. 
So far Aspen hasn't received any orders, which is due to declining demand and because nongovernmental organizations that purchased vaccines for Africa and low-income countries had already procured other shots from different suppliers, said Mr. Nicolaou. 
Ticker
Security
Last
Change
Change %
APNHY
ASPEN PHARMACARE HLD
8.27
+0.12
+1.47%
RJF
RAYMOND JAMES FINANCIAL INC.
113.83
+2.03
+1.82%
J&J also said it had manufacturing agreements with Biological E. Limited of India, IDT Biologika GmbH of Germany and Spain's Laboratorio Reig Jofre SA. Biological E. and IDT declined to comment. Reig Jofre was part of J&J's manufacturing network in 2021 and 2022, the company said, but declined to comment further. 
CLICK HERE TO GET THE FOX BUSINESS APP
Rather than try to be a player in an oversaturated Covid-19 vaccine market, Dr. Yadav said that J&J could redirect its efforts to other products. He also said that the lack of a bivalent, or retooled vaccine to target new strains, is a disadvantage for J&J. 
J&J initially expected to book $3 billion to $3.5 billion in Covid-19 vaccine sales for full-year 2022, but abandoned that forecast in April, citing a surplus of doses and uncertain demand. The company reported roughly $1.5 billion in global sales of the vaccine for the first nine months of 2022, up from $766 million a year earlier.  
Source: Read Full Article