Raise your hand if you've been shlepping around the same stinky gym bag since college?
Yeah, it's time for an upgrade. After all, you've invested in the perfect pair of leggings and sneakers—so now it's time to treat yo'self to a gym bag that's both stylish and functional. Finding the right duffel, backpack, or tote can make all the difference when it comes to feeling extra motivated to crush your workout. Want to go straight from work to the gym? There's a bag for that. Tote your gear on a long run? There's a bag for that, too.
Basically, there's a whole world of gym bags out there ready to take your fitness game to new heights. Check out the best gym bags in multiple price points, styles, and colors. Take your pick.
When you just want a classic gym bag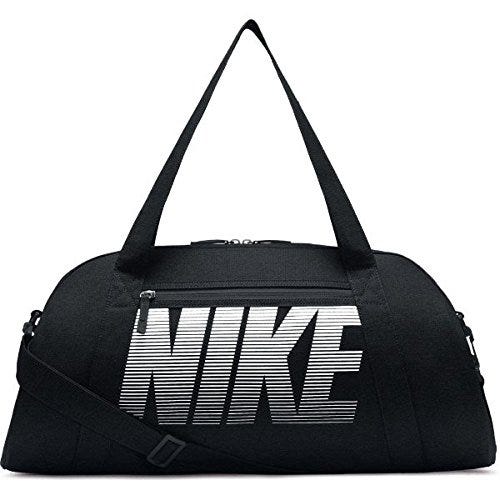 Sometimes, you just want a classic, no-frills bag to tote all your workout gear to and from the gym. The sturdy Nike Gym Club bag is a must, because you can easily throw the bag over your shoulder or carry it by the handles. Multiple internal compartments, including one for your sneakers, keep your gym must-haves and essentials separate.
When you need something a little luxe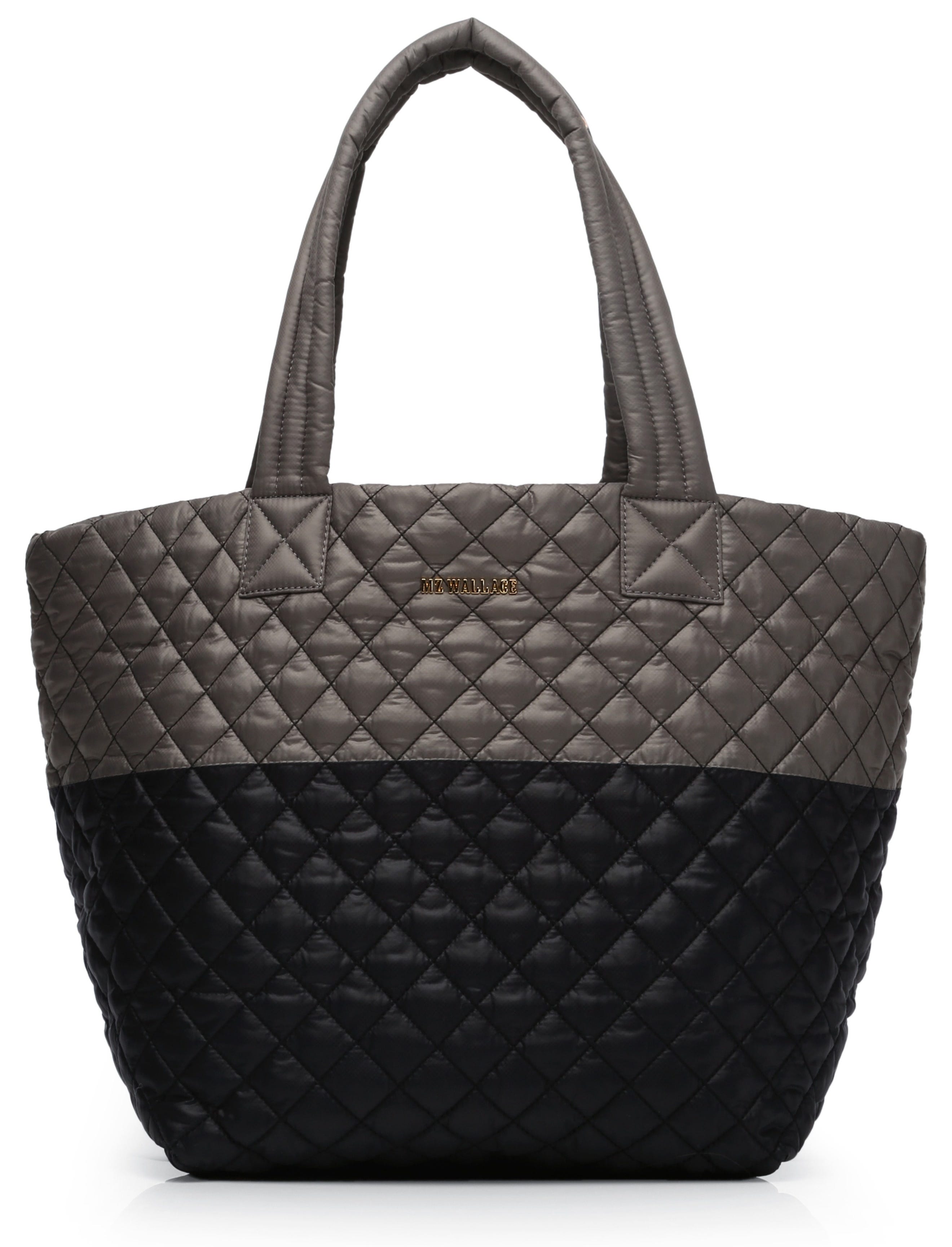 If you spend a pretty penny on athleisure, you don't exactly want to haul your stuff in a reusable grocery bag. The 'Medium Metro' Tote is a great pick for you, thanks to the quilted nylon that's sporty but also a bit dressed up. This one's big enough to fit your laptop but also handily folds flat when you need to shove it in one of those small gym lockers.
When you need something easy to carry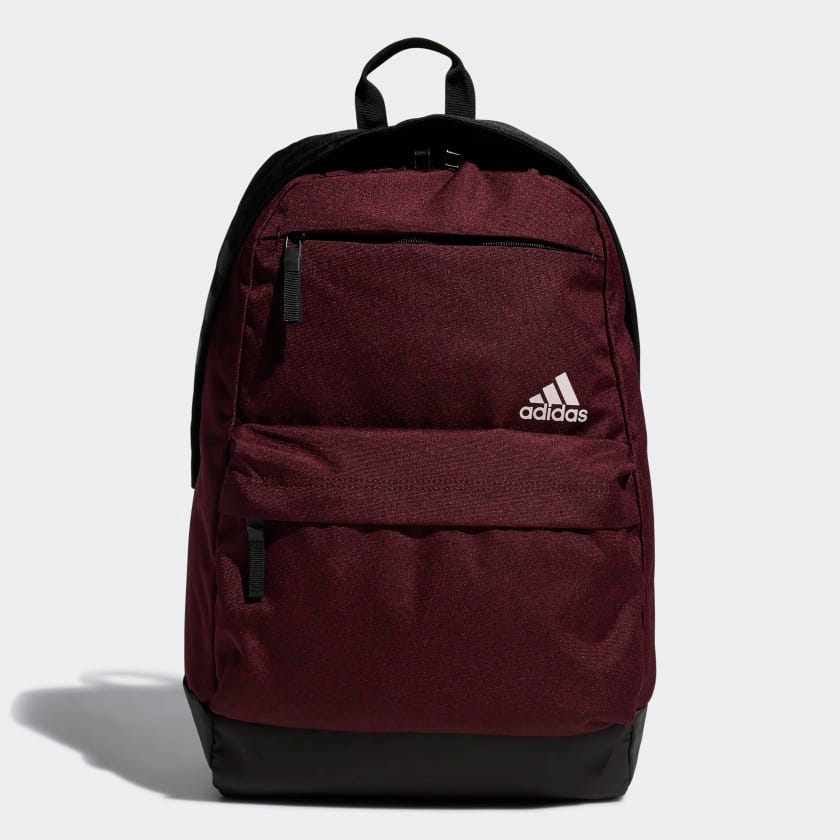 If an over-the-shoulder bag isn't your thing, opt for a backpack like the Adidas Daybreak 2 Daypack. The low-profile bag has soft shoulder straps, waterproof zippers, and smart internal compartments for your shoes, water bottle, and clothes.
When you have a lot of gear to tote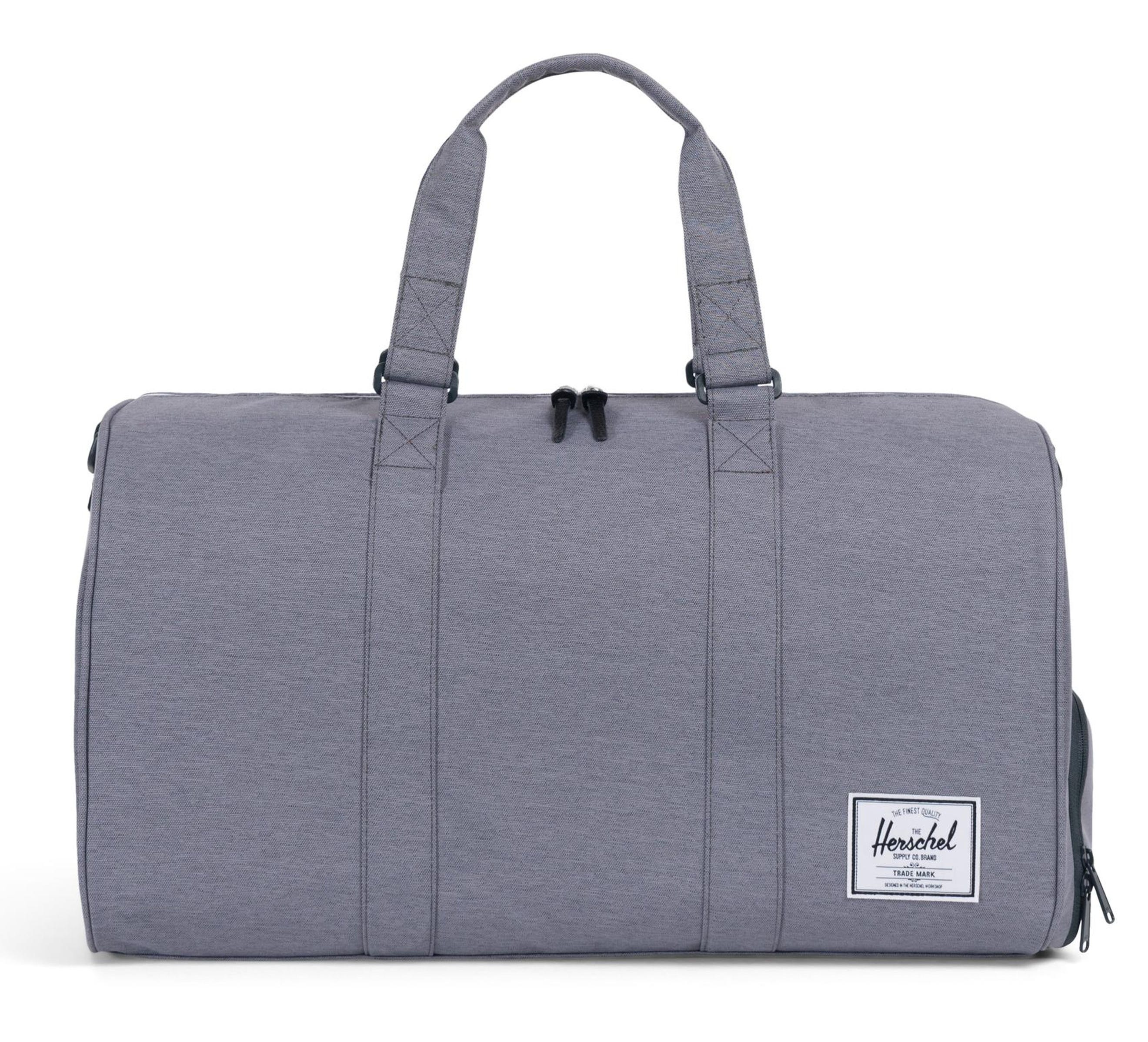 If there's an overnight on the calendar, the Novel Duffel Bag from Herschel Supply Co. is the perfect combo of handy gym bag and low-key carry-on. And while the outside might look nice and compact, the inside is roomy. It even comes with a separate, lined compartment designed to store your sneakers or extra pair of shoes.
When you just need a simple, charming bag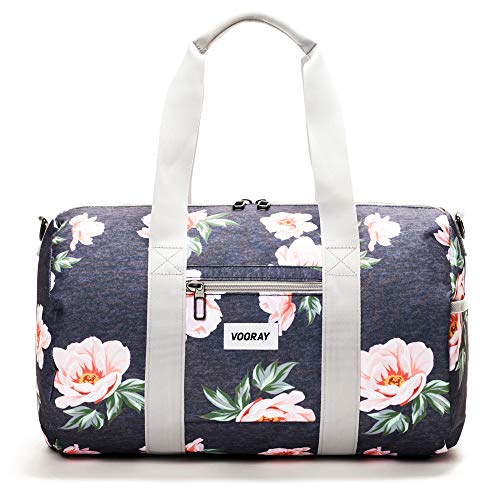 With the Vooray Roadie Gym Duffel, you'll never worry about mixing your gym bag with someone else's—it comes in a variety of colorful patterns, including this pretty floral print. In addition to helping you stand out from the crowd, it gives you ample space for all your essentials, and comes with reinforced metal clips and zippers, making it durable, too.
When you need two bags in one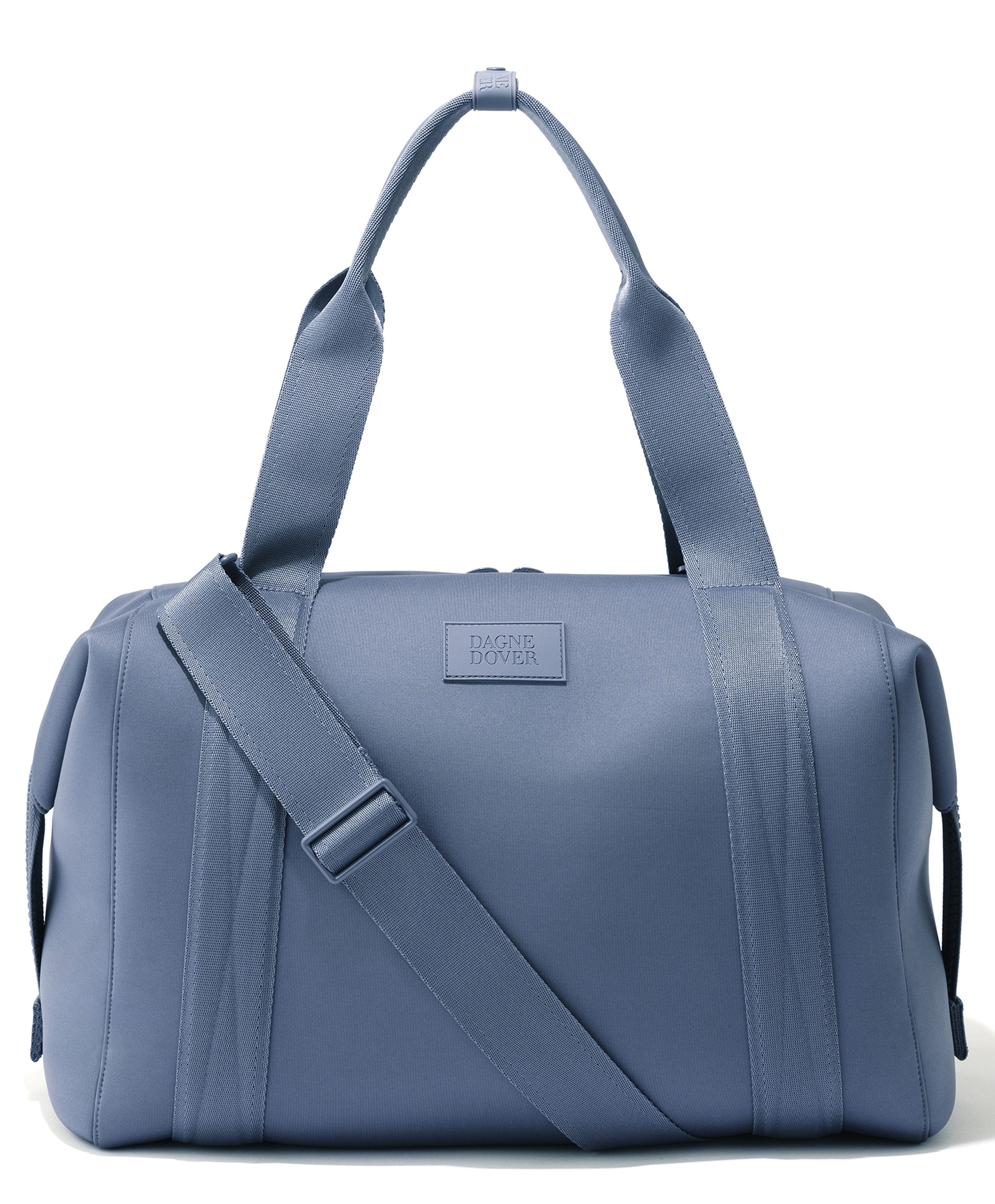 This duffel is a full-on shape-shifter. The sides of the Dagne Dover Large Duffel Bag are expandable so it's small enough to fit in a gym locker or big enough to fit all your necessities when traveling. Plus, the olive color is super-chic, so it feels more understated than most gym bags you come across. The inside is filled with compartments and removable pockets, working overtime to keep your stuff organized (and less smelly).
When you're going to yoga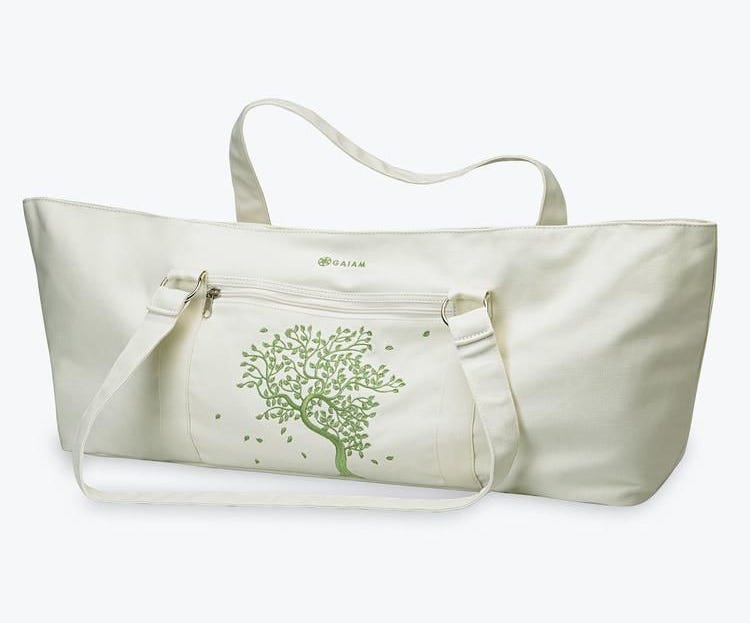 It's a pain to carry a yoga mat in one hand with a bag slung over your shoulder. If you're looking for a hands-free way to tote your mat, the Gaiam Tote is a perfect pick. It's lined with sweat-wicking nylon, to keep the inside of your bag dry, even after a sweaty flow. Plus, it has a bit of extra room to store your basics, like your keys, phone, and cash (for the healthy vending machine, natch).
When you don't want it to look like a gym bag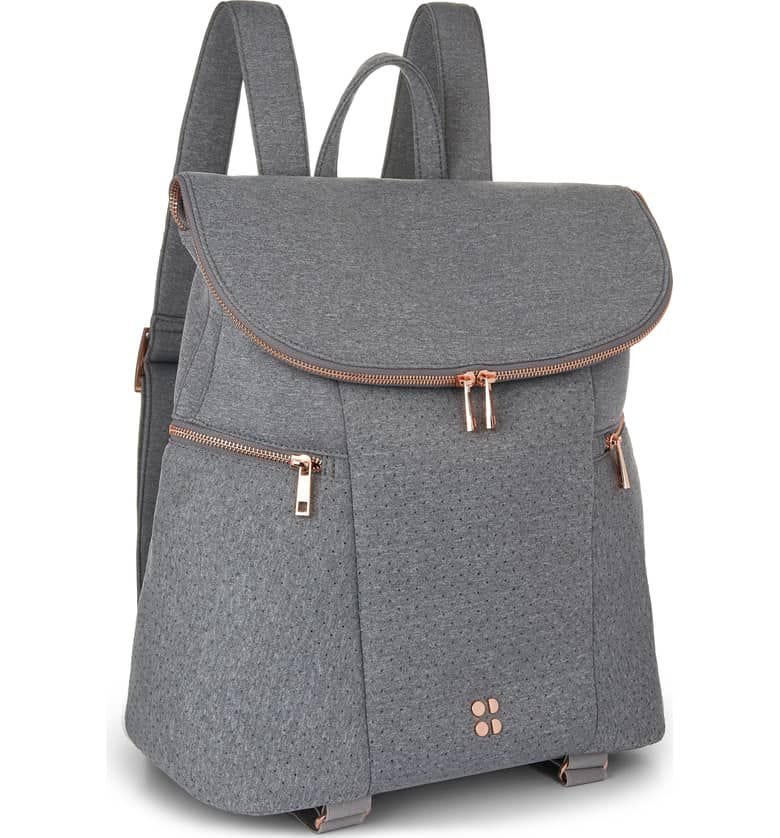 Seamlessly hop from errands to the gym and then out for drinks with this ultra-stylish Sweaty Betty All Sport Backpack. It's made with cool neoprene fabric—which is just as durable as it is trendy—and rose gold hardware. And it has ample zippered pockets to keep all your essentials organized. Plus, it includes a subtle yoga mat strap underneath the pack for easy gear transport.
When you want a fun grab-and-go tote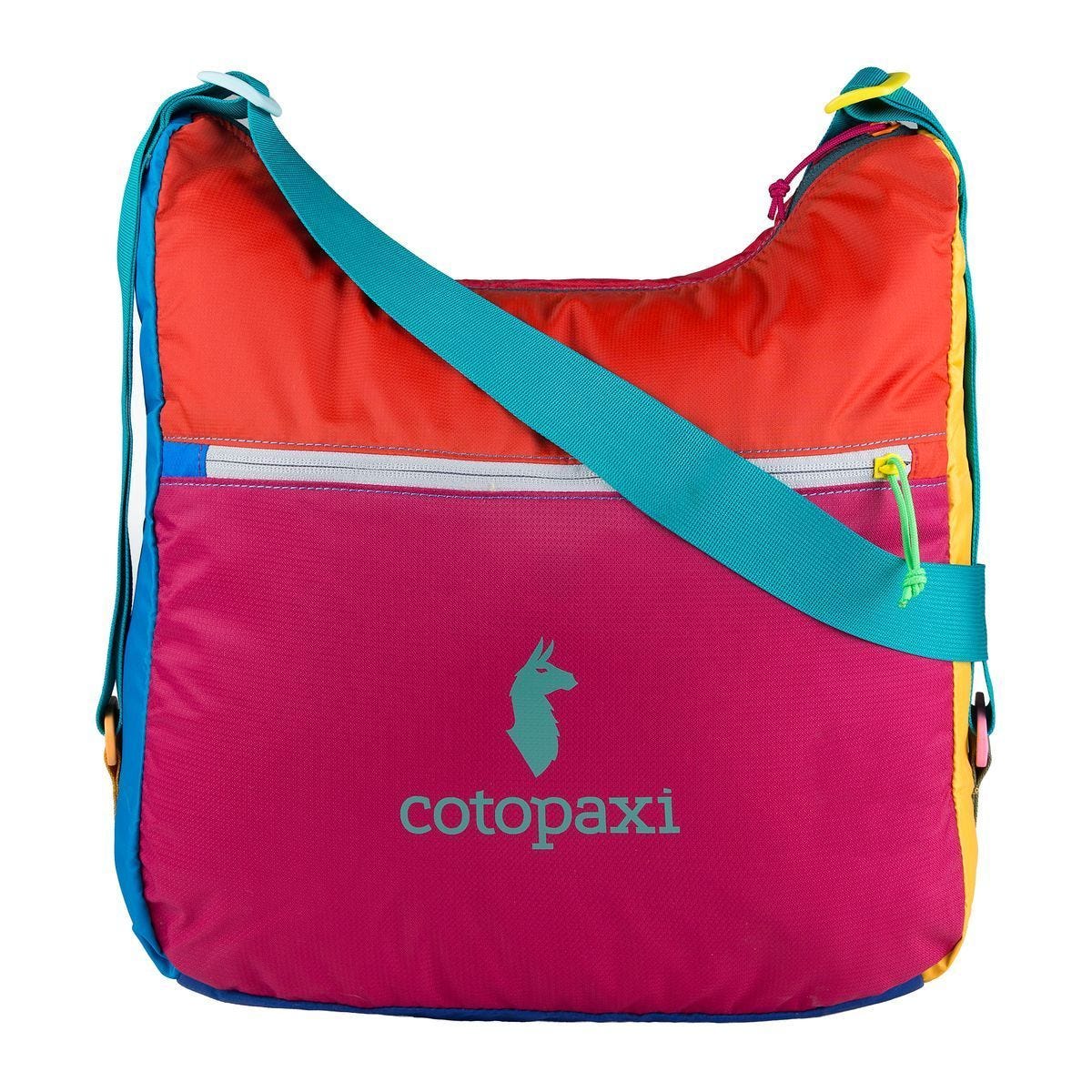 If you want something a little more petite that still gets the job done, this Cotapaxi TAAL Convertible Tote is the perfect fit. It functions perfectly as a lightweight gym bag, fully equipped with a surprising number of storage pockets despite it's size. The straps easily convert to a backpack depending on your toting needs of the day. And unlike many muted gym bags, this one offers a number of bright, colorful patterns to help you stand out in the best way.
When you need a bag that can work out with you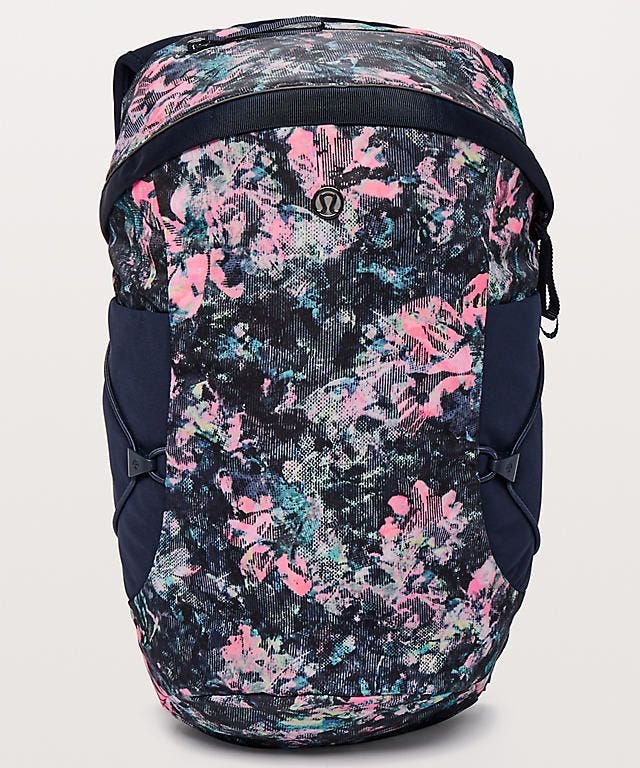 Whether you're taking your gym bag running, on a bike ride, or just on your commute, this Lululemon Run All Day Backpack is a perfect option. It stays put during your workouts, and has plenty of room to hold all your essentials—even a change of clothes and shoes if needed. Bonus: It's made with water resistant and easy-to-clean material to withstand any obstacles.
When you want something that can go on adventures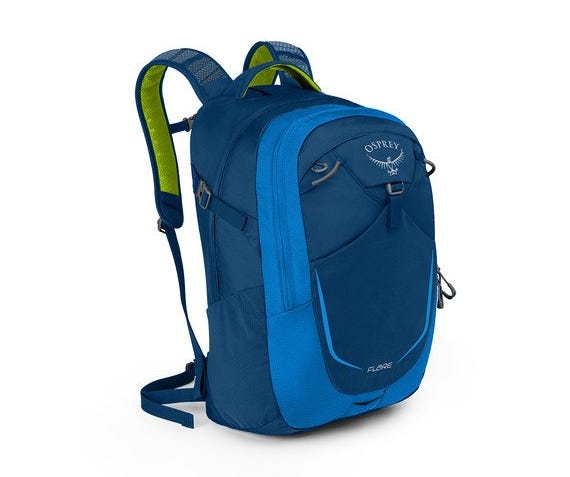 Looking for a pack that functions just as well at the gym as it does on a long hike? Enter: the Osprey Flare Urban To Trail Bag. It's made with a super-breathable mesh harness and back panel to keep your shoulders comfy and back cool throughout the day. It has plenty of room to store snacks, a change of clothes, and your laptop if need be—along with handy pockets to keep everything organized.
When you're hitting the showers after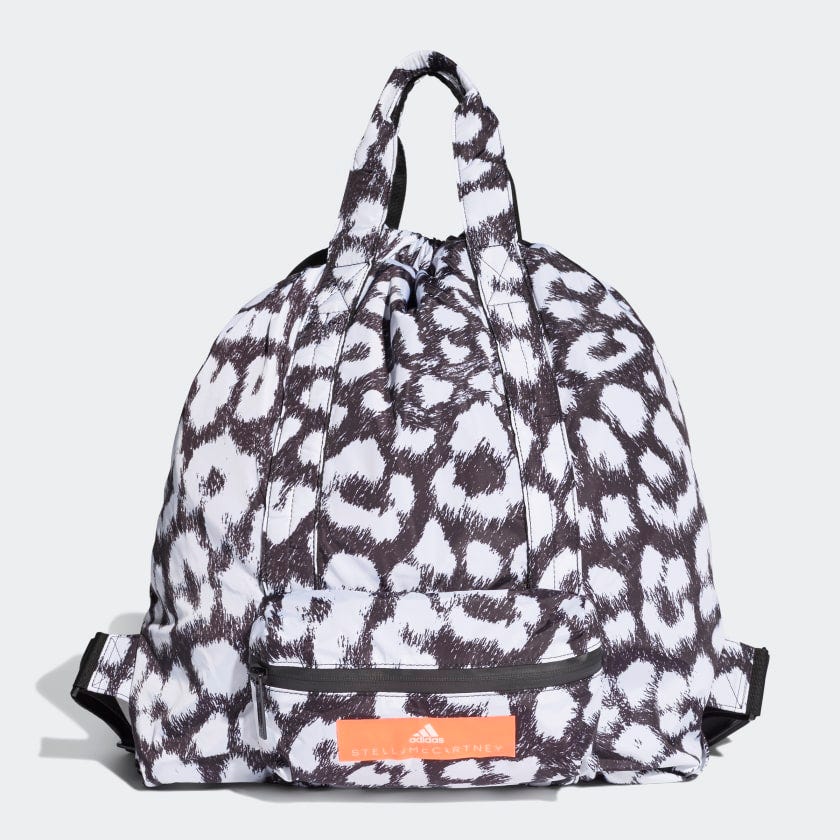 Showering at the gym can get a little…hectic. (So many naked people, so little space.) Luckily, the water-resistant material on the Adidas by Stella McCartney means it won't get ruined if it gets a little wet. Even better: This bag easily converts from a tote to a backpack, depending on your needs, and it has a ton of space.
When you're going from work to the gym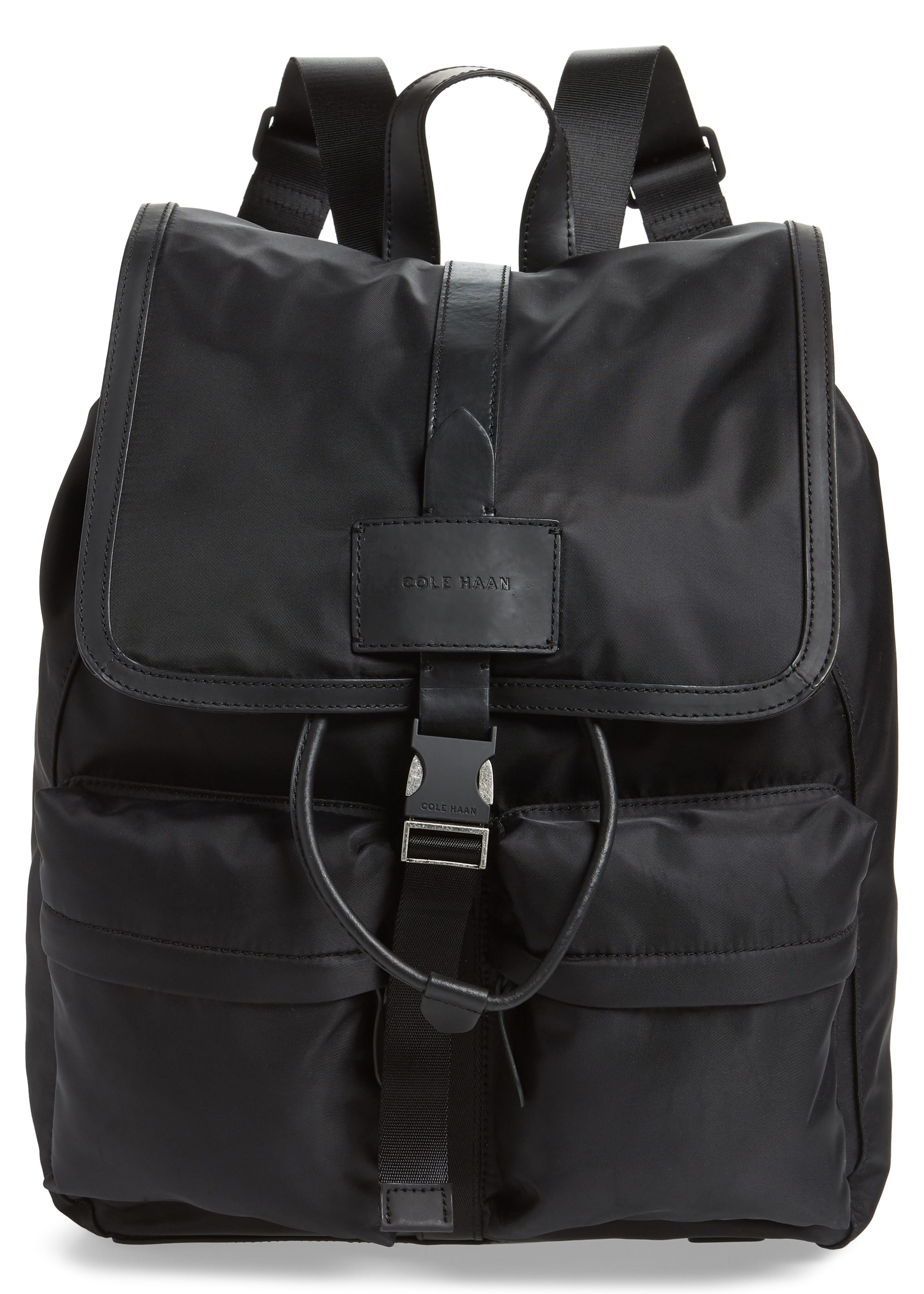 If you're looking for bag that looks just as awesome at the office as it does at the gym—this Cole Haan ZeroGrand backpack is the perfect fit. The sleek black color and leather accents look great, plus it has ample room for your work and fitness gear. There's a padded sleeve for your laptop, a spot to hold your water bottle, and so many handy pockets. It also features mesh pads, perfect for keeping your back cool when you're extra sweaty post-workout. Granted, the price tag is a little steep—but hey, you're getting an office AND gym bag in one stylish package.
When you need to pack for that fitness retreat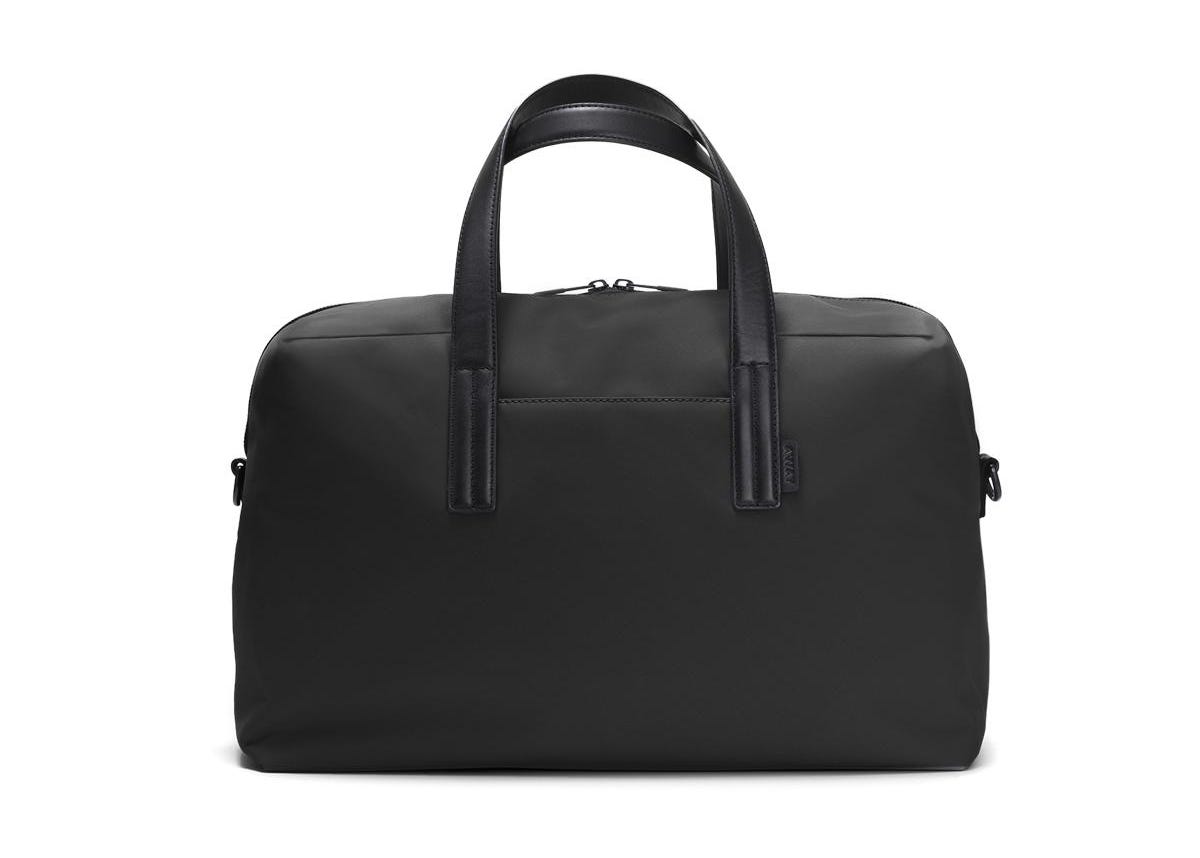 Away is a popular brand known for their stylish luggage, but did you know they make gorgeous duffle bags, too? Well The Everywhere Bag is basically made to for your weekend retreat. It's made of water-resistant nylon—so it's sturdy enough for any trip you have in store. It also includes a handy strap that slides perfectly over the top of your suitcase handles if you have extra luggage in tow.

When you want a separate shoe compartment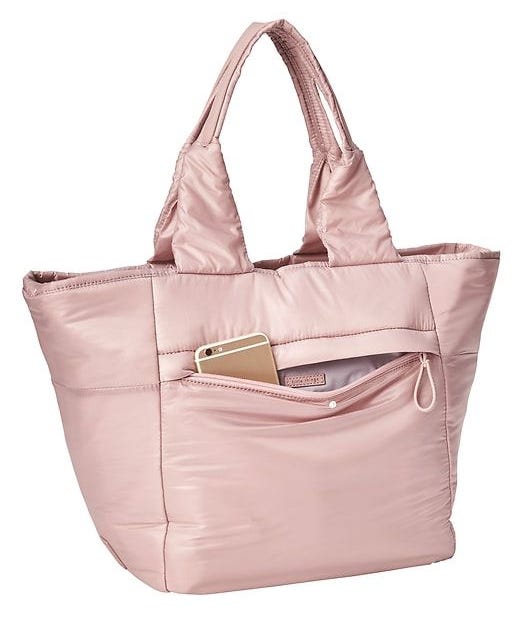 Could this plush pink gym bag be any cuter? What's more, Athleta's Cumulus Bag by Caraa has enough pockets and compartments to organize all your gear. There's a spot to store your rolled-up change of clothes, water bottle, and even a zippered, attached bag to separate your shoes from the rest of your loot. It also includes an external pocket for easy access to essentials, like your keys, phone, and wallet.
Source: Read Full Article