How exactly have the Socceroos made it into the round of 16 in the World Cup? It's only the second time in Australian football history.
Coach Graham Arnold has been crystal clear about one crucial, but unexpected, tool in the arsenal that he uses to get his players to perform at their absolute peak.
Forget raw egg shakes and motivational tapes. He gets them to stay off social media.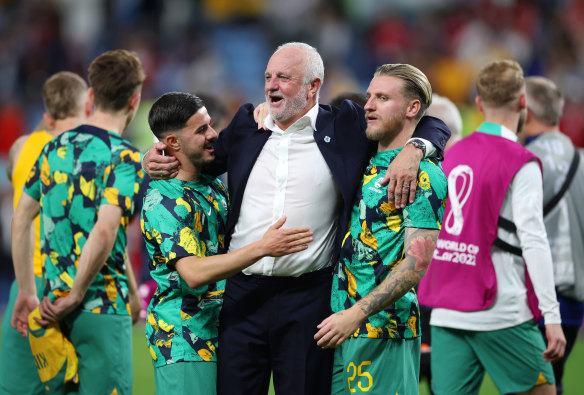 "I always say to the boys, 'Have a laugh before you go to sleep, listen to popular music that you like, and make yourself happy before you go to sleep'," says Socceroos coach Graham Arnold, pictured after the team beat Denmark in Qatar on Thursday.Credit:Getty Images Europe
"Mentally it's the biggest thing … it affects your brain; it doesn't matter how fit you are, technically how good you are or how good the tactics are, they don't take it in because they're mentally not ready," Arnold said this week of the negative impact that social media has on his players.
Most unexpectedly, Arnold is adamant not only about shielding his players from any criticism they might see on social media, but from any adulation, too.
"As I said to the boys, that's why we [beat Denmark] after a great win against Tunisia," he said in an interview with SBS on Thursday morning. "No celebrations, no emotion. Sleep. No social media."
Has the Socceroos coach inadvertently given the rest of us a road map to more easily achieving our own goals, whatever they may be?
Absolutely, says Professor Philip Smith, who leads the Vision and Attention Lab at the University of Melbourne.
"If you are over-aroused, then you're kind of chaotic and disorganised and anxious, and you don't perform well," says Smith, who researches perception, attention, memory and decision-making. And when we scroll away on social media, whether we're enraged by an outrageous comment or glowing from the flush of praise, we're becoming overly aroused.
This messes with anyone's ability to perform at their best.
"Very good top-flight athletes are particularly good at sort of going into an almost zen state," says Smith. "[You] produce your best performance by basically being able to sort of empty your mind, silence the internal voice, which might criticise you, undermine you, lead you to second-guess yourself, lead you to over-think what you're going to do next."
And this pertains to the rest of us, too, whether we're just working on an essay, playing a round of golf or helping our kid with their maths homework.
This is because the repeated dopamine hits we get when we scroll on social media damage our ability to focus on any task that's challenging or slightly boring, says Smith.
"Staying on task is effortful, it requires depletion of metabolic resources, we're sort of burning brain glucose to stay on task," says Smith. "It requires a degree of training, it doesn't come naturally [to us]."
"[You] produce your best performance by basically being able to sort of empty your mind, silence the internal voice which might lead you to second-guess yourself, lead you to over-think what you're going to do next."
The more time we spend on social media where we're getting "constant little rewards for minimal effort", the more we want to continue to do that and the less we want to focus on tasks that are "aversive" and require prolonged focus to complete, he says.
"We're in a sense sort of conditioning ourselves away from staying on difficult, challenging tasks [or] anything slightly boring," says Smith.
It's not unlike the negative impact that having been addicted to heroin has on drug addicts, he says.
"Heroin just seems to mess up people's ability to … stay on a task that's slightly boring," says Smith, even after they've weaned themselves off the drug. Because once they've experienced the immediate "rush" that heroin provides, "they no longer are able to engage in these really demanding and time-consuming tasks and to get the intrinsic rewards that those tasks provide".
"Keith Richards once said, 'I learned to play golf and wrote Exile On Main Street while on heroin'," says Smith. "If I could talk to Keith, I'd say, 'But what did you do after that?' If you look at the careers of a lot of significant artists who've had drug problems, they've often produced very considerable pieces of work in the throes of a raging addiction, but they peter out afterwards. It's disrupted that ability to remain focused on challenging tasks for a long period of time."
(Rolling Stone magazine once ranked 1972's Exile On Main Street as the seventh-best album of all time. Many consider it the band's greatest effort, with subsequent albums not nearly as good.)
So just how long do we need to stay off social media to reap the cognitive benefits and become more able to focus on tasks?
Smith refuses to be on social media at all – for all of the above reasons – even though there is "a lot of pressure" on academic staff like himself to do so in order to "spruik our stuff".
But for social media expert Dr Vicki Andonopoulos, we could reap benefits if we take a week's break, or at the very least abstain from social media for 20 minutes before a task, and then while we're engaging in the task itself.
"To get a full [sense of] what it feels like to not have the existence of social media," says Andonopoulos, a lecturer on social media at the University of Sydney, of the week-long break. "If you just take a break for a day, right, and you jump back into it, you kind of forget what it's like to be off it."
She has seen the starkly negative impact that social media use has had on her students over the last seven years of teaching.
"When you force someone [now] to look you in the eye, listen to the words coming out of your mouth, that becomes a hard task [for them]," she says of her students, aged between 18 and 25. "I can see that. Because I've got 100 people in a room and I can see how many are holding their attention. And it's like three per cent."
Seven years ago, they weren't multitasking in class, scrolling on Instagram and Twitter during a lecture, and they were at least looking at her. "The in-person interaction [has gotten worse]," she says. "They're unable to hold attention to longer than 20 minutes. They'll look down at their phone or start scrolling, even though I'm still directly talking to them [one on one]."
So will she recommend that her students start taking more social media breaks?
"I haven't," she says, "but I probably should after the Socceroos' win."
Make the most of your health, relationships, fitness and nutrition with our Live Well newsletter. Get it in your inbox every Monday.
Most Viewed in Lifestyle
From our partners
Source: Read Full Article